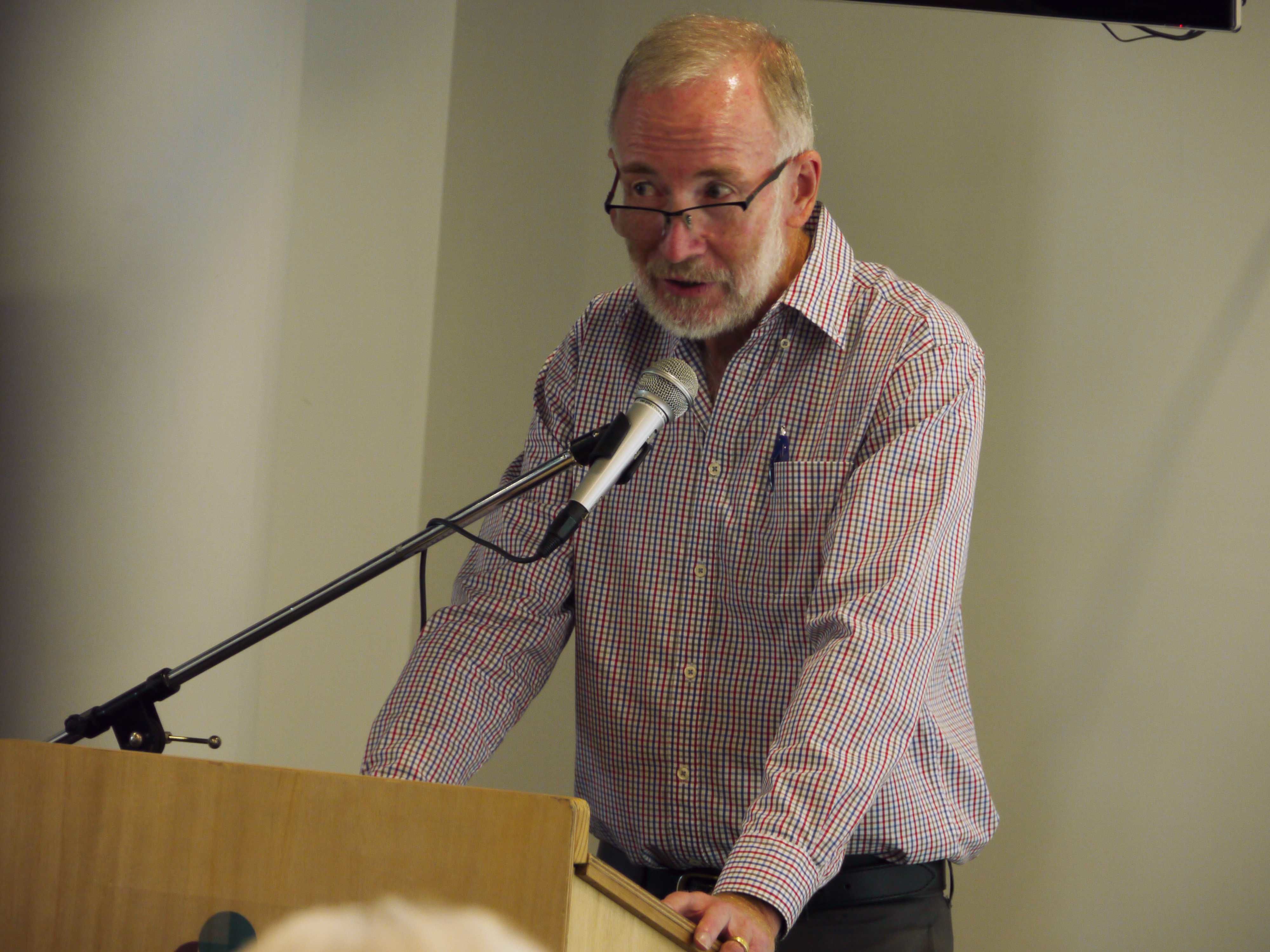 Christopher Pollnitz, Cardiff Library, April 11th, 2015.  Photo by Martin Kent.
 A very long time ago, when I was I first beginning to publish poetry, I received a very kind letter from the one of the judges of the 1982 Mattara poetry prize. His name was Christopher Pollnitz, and he was writing to let me know he was including my poem in his selection of work for the competition's anthology.
What made Christopher's letter especially wonderful was that he had not just sent the formal notification, but had added a personal, handwritten note, saying how much he had liked the poem.
On the long road toward my first book, such encouragement shone pure sunshine past the potholes of rejections and the growing piles of typed drafts.
Some years later, we met as joint judges of the Lake Macquarie Roland Robinson Literary Award. That prize was a project of Lake Macquarie Council, administered by the Lake Macquarie Library Services.
So, when Lake Macquarie Library Services offered to host a launch of my new collection, The Hour of Silvered Mullet, at their sparkling new Cardiff Library, who could be more appropriate than Christopher to launch the book?
Christopher is a highly regarded poet as well as a distinguished academic, so I approached him with some trepidation. I was honoured and delighted when he agreed.
Just as he was all those years ago, once again he was kind and generous in his reading of my work. Here are some extracts from his characteristically witty, intelligent speech, delivered at Cardiff Library, Lake Macquarie, on April 11th, 2015:
"Good poets discover themselves.  Good poets who have long, productive careers—poets like Jean—go on discovering new and larger selves from the multitude of their influences and experiences and memories, and from the stories they hear of others.
I could list you Jean's awards and prizes and residencies to prove how many editors and judges share my high estimate of her work.  But what's come to me reading The Hour of Silvered Mullet is that Jean's reputation is now being established on how she puts together, not just shyly brilliant poems or poem sequences, but whole volumes."
"The volume's first poem, 'The Scent of Native Frangipani', is a characteristic Jean Kent poem.  It's about a living thing, a rain-forest tree or garden tree that happens to evoke a significant memory.  As the speaker walks through her garden, at evening after a day's writing, a flower scent leads her in memory down the path of her mother's garden, past her breathless father, to 'a place where she [the mother] promised we'd be / "nearer God's heart / than anywhere else on earth"'.  The place from the past might be Toowoomba or a smaller town further inland in Queensland.  The call of currawongs—in the last poem in the book that call is given words, 'Come home now! Come home now!'—summons Venus or the Evening Star into the sky.  With the star comes the sense of a 'shy . . . blessing' that the scent and the memory have brought home.  And to me the pretty flowers of native frangipani seem to glow with new light.  The poem is one in which Jean is working out of her epiphanic method, using something familiar, common-or-garden, to fuel a trip into deeps of memory and feeling."
"Jean's epiphanic poems are too shy to trumpet what their matter is; but their matter is life and death, not just hints and intimations…
Jean's epiphanies don't cast haloes over everybody or over everything; but they show us possibilities of finding home where we actually live, and die, as against where we fancy living.  Jean's home, Lake Macquarie, is her muse for much of The Hour of Silvered Mullet."
 Rochford Street Review, has now published Christopher's launch speech online, under the beautifully appropriate title, 'The Art of Regional Living'.
If you would like to read the entire speech, please click on the link below:
http://rochfordstreetreview.com/category/writers/jean-kent/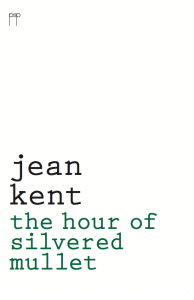 The Hour of Silvered Mullet is available from http://pittstreetpoetry.com/emporium/jean-kent/ … and at the moment, as a special post-launch offer, for a short time Pitt Street Poetry is offering to post the book anywhere in the world with no charge for postage.