A new book of poems? Yes!!
I'm thrilled to announce that Pitt Street Poetry has just published my fifth full-length collection, The Hour of Silvered Mullet.
Here is the front cover, looking splendidly simple and elegant, in classic PSP style.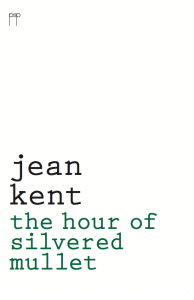 My last collection, Travelling with the Wrong Phrasebooks (Pitt Street Poetry, 2012) was set mainly in Europe. It was a response to my experiences living in Paris during Australia Council residencies at the Cite Internationale des Arts, as well as a visit to Lithuania for a family reunion.
The Hour of Silvered Mullet brings the poetry home to Australia. It includes memories of 'old haunts' in the Queensland country towns of my childhood; sequences set in the Hunter Valley, where I worked as a TAFE counsellor; and many poems celebrating the 'smudged grace' of everyday suburban life in my current neighbourhood at Lake Macquarie, a place where, at twilight, it is not uncommon to see the dull mullet leap out of the water and be 'stunned silver unaware'.
A new book deserves some silvery-feeling celebrations as well, particularly popping of champagne corks (well, Aussie sparkling actually), and that has already happened in this house!
More public events to welcome The Hour of Silvered Mullet are planned. Here are the details of some of them.
First up, we have a mini-launch at the Newcastle Writers Festival:
Saturday, March 21st, 2 pm to 2.30 pm, at Agosti Espresso, 7 Darby Street, Newcastle.
This is part of The Big Launch session, running from 1.30 till 4 pm, where books by John Stokes, Jennifer Compton, Jan Dean and Beth Spencer will also be launched. It will be a bumper celebration of new books, in the relaxed setting of Agosti Cafe. There will be wine and nibbles provided and everyone is welcome to attend. (No RSVP is needed.)
Later that afternoon, I'm excited to be on a panel with two other PSP poets, Melinda Smith and Jenny Blackford. We are to 'discuss inspiration, motivation, themes and the writing process' … and I hope we'll all read a poem or two as well. The details for that are:
From the Heart (hosted by John Knight)
Saturday, March 21st, 4.30 pm – 5.30 pm. Cummings Room, Newcastle City Hall
On Sunday, March 22nd, 1.30 – 2.30 pm, at the City Hall Concert Hall, I'll also be reading poems from the book in the session The Big Read: Some of Australia's most respected poets take to the stage (hosted by Linsay and John Knight).
As well as these NWF events, we will be having a Lake Macquarie/Newcastle/Hunter Valley launch on Saturday, April 11th, at 1.30 for 2 pm. A big thank you to Lake Macquarie Library Services for offering to host this at the sparkling new Cardiff Library (Cnr Main and Macquarie Road, Cardiff NSW). The Hour of Silvered Mullet  will be launched at this event  by Christopher Pollnitz.
I will be sending out invitations for April 11th at Cardiff very soon … Please do come along and join the celebrations! Everyone is welcome to attend. For this one, though, if you could RSVP by April 9th to the library at (02) 4921 0463 or to me at alicejean.kent@gmail.com, that would be very helpful for our catering. We want to be sure there will be enough sparkling for everyone!