It has been a long while between books for me. But sometimes time is what a book needs. This has certainly been the case for my new Pitt Street Poetry book, The Shadow Box, which I am pleased to announce has just been published.
The Shadow Box is a book-length long sequence based primarily on the lives of my maternal grandparents and, most particularly, their experiences during and shortly after the First World War. When I began writing it, we were in a time which is often now called pre-Covid, or pre-pandemic. By the time all our borders were closed and Covid restrictions were in place, I had already passed the point in the grandparents' story where their challenges from war were replaced by the challenges of the Spanish Flu, so it was strange to see how closely their lives were mirroring my own.
The story of The Shadow Box and its writing begins, I think, when I am six years old and living in my maternal grandparents' house on Queensland's Darling Downs. There are objects in the house which fascinate me: a hallstand which is decorated with hand-carved leaves of Kurrajong trees; an army hat with emu feathers which hangs on the top of the hallstand; a shadow box with tiny precious objects inside, hung high enough for a child to see, but not to reach…
At the end of one hallway there is also something called 'The Black Hole'. Whatever is hidden there, I can't imagine. The house is a charmed place, a sanctuary for my mother, my two brothers and me, while my father is in hospital being treated for TB. Outside, the views are of sun-drenched paddocks of wheat and lucerne, sheep and cattle, mirages and long distances to any other houses or roads to other places. There is so much space for a child to roam alone, surrounded by history but free to imagine stories of her own.
The front verandah of my grandparents' house, 1980s. Photo by Jean Kent
We are absolutely safe here – and yet, there is some mystery, too. It isn't until decades later that I will begin to learn the stories of my mother's parents, even though many traces of them linger in that place. The simplest facts emerge first: my mother's parents married in November 1914, one month before my grandfather left to serve in the First World War. After the war, they settled on this land they bought, and were living here with their four daughters when my grandmother died, unexpectedly, in 1927, after the birth of a fifth daughter.
Fast forward to the 1990s, and after the death of my step-grandmother, some of my grandmother's belongings are freed from their hiding places in the house. My mother becomes the custodian of some of these things – a wedding dress, a Sevres vase, a bundle of letters written by her mother to her father during that Great (supposedly final) War.
On the verge of going to live in Paris for six months, I discover that my grandmother has been there before me! Here are her letters, from 1916 – talking of shopping for hats and dresses, watching the parade down the Champs Elysees on July 14th, going to the Bois de Boulogne and the Bagatelle Gardens. I start to follow in her footsteps, wondering what it might have been like to be there in the middle of a war.
In 1994, though, I am preoccupied with other stories and experiences. Other poems are written and published. By the time I return to Paris for another six months residency, my grandfather's war diary has emerged along with more of my grandmother's letters, and I know enough of their story to be both intrigued and hopeful that I might be able to write a version of it, either as a novel, a memoir or in poems. For quite a while I am not sure which genre it will be – but eventually, the poems win.
So here it is now, The Shadow Box: a book-length sequence of poems dedicated to my grandparents, and to my mother, whose diligence as our family archivist first led me to their story.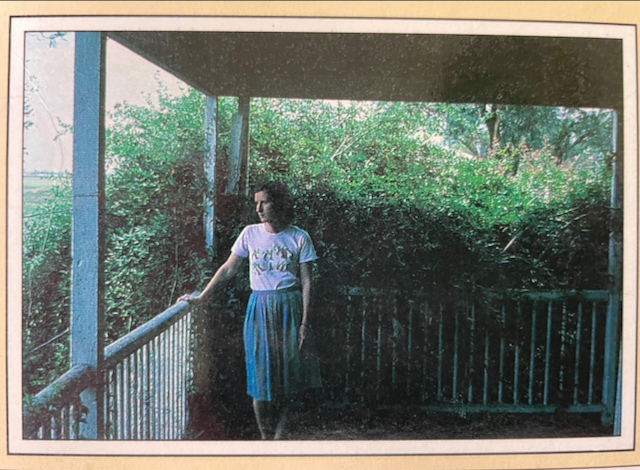 On the front verandah of my grandparents' house, 1980s. Photo by Martin Kent
The Shadow Box was launched by acclaimed poet John Foulcher at Watt Space Gallery, Newcastle, on April 2nd, during the 2023 Newcastle Writers Festival.
The book is available online from Pitt Street Poetry: https://pittstreetpoetry.com/