3. CORE BIOPSY
When I first started to write up my experience of living with the possibility that I might have breast cancer, I reached this point prior to the core biopsy, and was so exhausted I could not continue. I was trying to record what was happening before I knew what the end result would be … Now that I know the end is a happy one, I'm better able to look back – but at that time, anxiety anaesthetized my brain.
 Two weeks went by before I again pulled out the note book which I'd chosen specifically for this writing. It was a deliberately cosy book, its cover exuberantly scattered with old-fashioned roses and a chirpy yellow bird: quite different from the plain covered, thick white papered journals I normally use. The pages even had lines, which I normally hate! But prettiness, order, anything to help keep my thoughts running along straight tracks seemed to be helpful just then.
As time passed, my memory of what happened so suddenly at the BreastScreen clinic became less certain. I'm not sure now of the exact sequence of events. It's possible that even in the days immediately afterwards I was too stunned to have everything quite right, but then I was probably too confused to know I was muddled, whereas now I'm more conscious that there are gaps in what I remember – almost black-outs of consciousness, where I was led along like a lamb to do whatever was required, and then led back to what was supposed to be normal life again.
That first call back day, in the big core biopsy room at the end of the corridor where I disappeared twice, the examination table appeared innocent, if also rather bizarre. Stripped to the waist yet again, with the cotton gown still covering my back, I lay face down on my stomach and allowed the solicitous women there to manoeuvre my left breast down through an alarming hole.
While it was moved into position and checked for how well someone could reach it from below to carry out the biopsy, I was sprawled with my head facing sidewise. On the wall nearby, also tilted sideways, were two coloured photographs. The one I remember best was of the Taj Mahal – a beautiful building, but not one I'd ever associated before with breasts. This was an unusual view – the white monument, with its central dome and minarets, was framed by another overhanging structure that was all scalloped, cut-out hemispheres … Did all those rounded shapes and the dome really resemble breasts? Or did everything, suddenly, make me think of them?
The other picture was full of mounds as well – small islands in a tropical sea, I think …
So the scenes should have been idyllic and calming. But once I saw those breasts, I couldn't shake the imagery. It was quite funny, in an oddly comforting way. And sufficiently distracting to help me through the long tedium of just lying there, being prepared for my procedure later.
Not everyone can have a core biopsy done like this. The actual process takes about an hour, which is a long time to lie still on your stomach if you have a bad back or other physical weaknesses. For me, however, it was possible. There would be about a three hour wait between the test laying-out and the actual event though, so escape from the clinic was possible.
In a daze, I let Martin drive us to Hamilton. I thought I might get a smaller book to read during my afternoon of waiting – the sailing memoir itself was just right, beautifully diverting and refreshing, a world away from medical dramas with its very different emergencies of drifting anchors and its quiet magic of nights at sea … but the actual book was a tight squeeze in my shoulder bag, and manoeuvring it back in every time I was called to another examination room had been a clumsy and time-taking exercise. Why not buy something at MacLeans? There were so many novels I'd been meaning to get all year …
The little shopping centre was buzzing. So was the bookshop. Everything was carrying on normally and busily in this other life. The two friendly assistants who'd helped do such a beautiful window display of my poetry book before its launch greeted me – but there were other customers waiting to be served, so no time to chat. Mercifully. I was thankful for the smiles, but not entirely present, I suspect, as I paid for Michelle de Krester's Questions of Travel, a book I'd been wanting for some time, but hardly one that was any smaller than Shooting Stars and Flying Fish!
Home for lunch – just enough time for that – fresh Kaiser rolls and prosciutto from the Italian deli (where a tousled woman was just back from the beach with her big, slightly sandy, longhaired dog) – then back into Newcastle again for the afternoon session.
On the biopsy table this time, things were more serious. A team of gentle women made me comfortable before the brusque doctor who'd told me I needed this procedure bustled in. He was in a rush to get things done. A local anaesthetic – a sharp jab, stinging …
"Would you like a hand to hold?" asked the woman positioned at my eye level on the right hand side.
"I'm not sure," I said. But took her offered hand anyway, and worried later that I might have clasped it so hard she could be leaving with as many bruises as I had.
After almost an hour of staring at the breasts on the walls around the Taj Mahal, my samples of calcium and surrounding tissue had been taken, the metal bow marker had been inserted, and I was patched and band-aided and ready to be sent home.
I had an appointment for just over a week later – with a surgeon – to get the results. The nurse counsellor had already flicked through a calendar and said "You won't need a mastectomy, just a lumpectomy. And it's not too urgent. If you have other commitments, you can take care of them first … "
She hovered over dates at the end of October. Four weeks away. "Your surgeon will be … He operates at Lake Macquarie Hospital and Newcastle Private. Which of these would be more convenient for you?"
All of this, I thought, was just being prepared for the worst. My samples still had to be tested. Surely they'd be shown then to be just little grains of calcium – nothing to worry about at all?
As well as the date with the 'surgeon' to discuss results, the nurse counsellor asked if I'd like to be rung if she had the results sooner. Of course. Perhaps by Tuesday, she said, they might have them …
4. WAITING FOR TEST RESULTS
Does illness (or danger) focus the mind? I've heard other people report this, but so far during this six weeks, it hasn't been my experience.
Shock and terror: these are the two main states I notice.
In the long wait for the results of the first core biopsy, I oscillated between sanity and near hysteria. Mostly, I thought quite philosophically that my predicted problem was very minor – only pre-cancerous, not a clearly malignant lump – and nowhere near as calamitous as what my friend L had already been through, at a much younger age, her whole life taken over by radiation therapy, and chemotherapy, and a regime of medication to keep the cancer at bay. But occasionally (and always just in shadow behind the clear, reasonable thought), I felt utterly shaken and on the verge of collapsing into a weeping mess.
In spite of what I thought I'd heard the nurse counsellor offer, my waiting time was not shortened by a phone call a few days after my biopsy. As days passed, I wondered what this meant …
Perhaps the results were not terrible (i.e. immediate surgery was not required)?
Perhaps the results were good – no need, therefore to rush to tell me?
Or perhaps (as it turned out), the results were much as I'd been warned – inconclusive, but worrying; still requiring surgery (but not: by tomorrow, or you may be dead…).
When, at last, I saw the surgeon to hear the news, I suppose I was almost prepared for the worst. Of course I still hoped to be told we could just watch and wait – and I still didn't quite expect the suddenness with which a date for the operation was set. If something was to be done as a precaution, best do it straight away – that seemed to be the message.
In this interview, film images of my left breast were clearly visible on one wall. The suspicious calcium grains were barely obvious to me – although I clearly saw the little metal bow that had been put in as a marker.
The surgeon pointed at what he called "a possible tiny focus of neoplasia". His plan was to try to take out all the visible abnormal growth, plus a small amount of surrounding tissue. This would leave a small indent in the breast, so there should not be too obvious a difference in the shape afterwards.
The pathology lab should also then have a good sample to test. Any cancer present would hopefully have been removed. If there proved to be no cancer, then those abnormal cells would have been caught before they had a chance to turn into anything nastier.
The surgeon was about to go on holidays. That was good! It gave me a reprieve of three weeks! With this delay, the Newcastle Poetry Prize presentation (scheduled for one week's time) could go ahead with me unaffected physically – and even in a slight euphoria of escape from all of this, with so much else to think about instead.
After the dates were settled – October 25th for the surgery; October 24th for the insertion of a localizing wire – we wandered out into the normal world again. I had pages and pages to fill in for the hospital – we could go across there now, the nurse counsellor suggested, have a coffee at Croudace House while I filled in the forms before handing them in straight away.
But there were so many questions to answer. A life history of medical information: not that there is a lot to say about that – I've been very lucky, apart from needing my stomach pumped aged three after possibly drinking kerosene, and the broken hip emergency and its subsequent dramas four years ago – but still, it all needed to be accurate and really, we were both quite shaken and in need of a more cheerful activity first.
"Hot chocolate at Estabar?" I suggested to Martin. And although it was a gusty day so not the nicest for sitting in a café where the wind hurtles in from the ocean, being there was better than another hour under the spell of a hospital.
Afterwards, we walked across the busy road to the grass near the railing above the beach. There was a fresh smell of salt and sea in the wind – a rush into my lungs that I relished. The air was very clear. The ocean – its usual, exhilarating, green-blue …
I had three week's grace before my surgery date. Three weeks when the world could be beautifully ordinary – like that view – if that could be possible.
*
Not surprisingly, in those few weeks between the day when I'm first told a part of me needs to be cut out and the day when it actually happens, life doesn't really settle back to normal.
There are distractions that help. Gardening and poetry are probably the best. Bushfires, which threaten the homes of friends in the Blue Mountains and develop ominously around Lake Macquarie as well, aren't really welcome, but they do send me out into our bushy garden to frantically rake leaves and clear fallen branches, so that I have a totally different sort of danger to think about.
On our way home from handing in the admissions form to the hospital, there is just time to buy flowering pots of blue and white lobelias at a nursery. I plant them almost immediately, and then have to mulch liberally with sugarcane straw, and water daily… The heat, dry winds and lack of rain aren't kind. From the garden's point of view, it's not really the best time to be planting, but for me, it is. Every day I have to check the flowers and keep them alive. The fact that they do survive cheers me greatly.
As the Newcastle Poetry Prize presentation day draws near, I'm determined to enjoy that, too. With Dennis Haskell, my co-judge, I've been reading and thinking about the poems entered for this competition for several months.
The selection is all done, our judges' report written, the anthology already at the printers … but until the presentation day when the winners will be announced and the book launched, it still feels like a job unfinished.
In the lead-up to the event, I resolve not to mention any of this medical uncertainty. It's good just to focus on the celebration of the prize, to be nervous about nothing more dreadful than a public speech, to share in the excitement of the winners and the poets selected for the book, and to concentrate solely on this opportunity to bring what's been an arduous but rewarding task to an end.
For three weeks, life does continue all around me, quite normally. It brings its usual ration of good and bad.
Shock and terror? They're still hovering in the wings … but I am aware how fortunate I am. So far, life can still pick me up and carry me along with it, most of the time.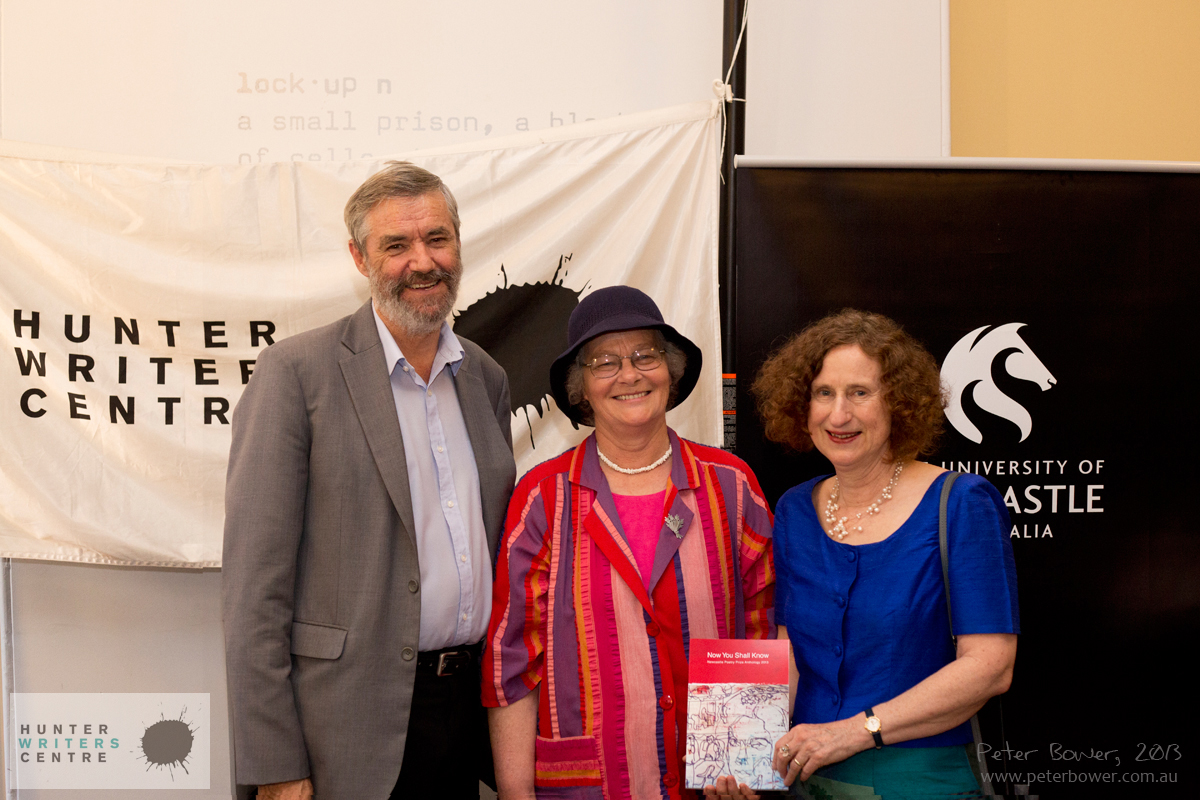 Newcastle Poetry Prize presentation, at the Lock Up, October 12th, 2013: Jennifer Compton (centre) winner of the 2013 Newcastle Poetry Prize for her poem 'Now You Shall Know' with judges Dennis Haskell and Jean Kent.  Photo by Peter Bower.
You can see more photos of the NPP event and found out about the winners and the anthology by clicking on the following link:
http://newcastlepoetryprize.com