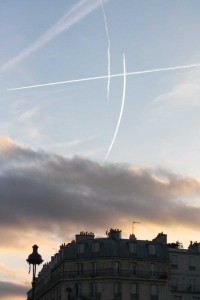 At Charles de Gaulle Airport, when our plane lands on February 1st, 2011, the temperature is -4º. It's freezing! My brain knew this change was inevitable, but still my body is shocked. Back at Lake Macquarie, where we were thirty-one hours ago, we had been enduring dry heat, days and days of 40 º.
 Here, there are no leaves on the trees. The architecture is in full view – across the river from the Cité Internationale des Arts, apartment blocks with their dark rooves and small orange chimney pots; even Notre Dame, the Pantheon, and the Eiffel Tower in the distance.
 When we go out walking on Sunday, the cars vanish as well from the Quais beside the Seine. People in well-padded jackets and coats and boots are walking along the roads, and there are roller-bladers and cyclists, so many cyclists …
 The water is green, the sky a pale blue – and planes flying through that space above the city leave soft white trails, lines which mysteriously intersect at unexpected places so that the beginnings of a new script could be appearing in the sky.
 In le Jardin des Plantes, there are snowdrops and snowflakes, first buds on the viburnums – and more bare trees. It is a place of twiggy skeletons and long avenues, where even in this cold weather crowds are ambling, speaking so many languages.
 Everything is excitingly different – except the cold. That is just impossible to live with. The unusual snowfalls which cloaked Paris in white in November and January aren't predicted to return, but I desperately need a warm coat. Inside, central heating keeps everyone snug, but the winds off the Seine are icy.
 Even without my hesitant French, as I try coats on it's blatantly obvious that I'm not a natural Parisienne. This winter, every woman here (and every man too) is rugged up in black. I can see the beauty in that – in a way, it's the logical colour to wear when the winter light is so fuzzily gray. And the Paris women do have a knack of draping beautiful scarves over their dark shoulders, so that they can promenade past the pale buildings looking sombrely elegant, but not so drab as to appear en route for a funeral. As soon as I put on black, the mirror suggests the funeral I'm about to arrive at is my own.
 So I rejoice when I find the little shop in the Marais, in rue de Sevigné, where there are coats of fuchsia pink and fire-engine red and royal blue. They're not this season's styles, and they're definitely cheaper because of that, but they're designed and made in France, and they're beautiful quality: pure wool with a hint of cashmere, immaculately stitched and finished. Definitely not 'Fabriqué en Chine'  – Made in China – the saleswoman goes to great pains to point out.
 'Je déteste le noir,' she also tells me. Shrugging helplessly and frowning as she despairs that Paris is all black. She asks me where I'm from. 'Australie,' I say and she says, 'Oh, c'est loin'. That's far away. Then she talks about 'les inondations' – the floods – and although Australia is far away, suddenly it doesn't seem quite so remote as it used to. Because of the miracles of contemporary news reporting – and because the last month in Australia has been a dramatic one for natural disasters – floods all over Qld, and in Victoria, and now the devastation of Cyclone Yasi – the place we've come from is part of everyday conversation on the other side of the world.
 The coat I buy is a deep, deep blue. Not exactly cobalt blue, or the colour Brett Whiteley used to paint Sydney Harbour– but close.
 Naturally, once I have it, the weather also gets warmer. The Metéo forecast we've found on the Internet begins showing maximums of 10, 12, even 17 one day. In the new 2011 spirit of greater friendliness to the English language, there's even a helpful translation offered: 'Dry, rather sunny, and then softer.'
 'Un printemps précoce' – an early spring – is about to arrive, with cherry blossom trees overwhelmed by masses of fairy-floss pink, avenues of white magnolias and tulips galore. The wind off the Seine is still icy though, and I wear my coat like a new skin every time I walk out into the Paris air.
 Back in Australia, in spite of all the floods, Lake Macquarie stays hot and dry. When Martin rings our neighbour towards the end of our first week away, wild winds have added to the unpleasantness. The electricity connection to our house has just blown down and the Energy Australia crew is there, repairing it …
Eventually, the long spell of heat is broken by a southerly change. When it comes, at last, after a long week of humid nights too hot for sleep, people will tell me later they walked outside to feel that rush of cool relief. While I shiver in the Paris freezer, they walk into their gardens and just stand there, grateful for goose bumps and rain.